This DVD is intended for
beginners
who want to learn how to assemble wire jewelry. It focuses on one preferred method that can be mastered quickly to achieve high quality results. Each lesson is followed by a detailed review to demonstrate the method more closely. (sample scenes from DVD in link below)
In this 42 minute DVD you can learn about:
Making a loop, including essential tools and wire types
Linking loops
Making a cage around a bead
Making a clasp
Making earrings
Wrapping a pendant or drop bead
These lessons have been taught by Dianna more than 50 times in Apple Valley, Minnesota.
The class also includes brief discussions of:
Potential wire loop problems
How to properly crimp wire
Picture of DVD Menu (4:3 Aspect Ratio, English Language)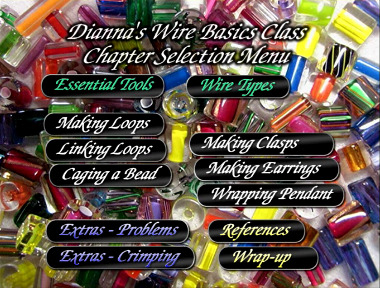 DVD Audio Sample 1.wma
DVD Audio Sample 2.wma
Scenes from DVD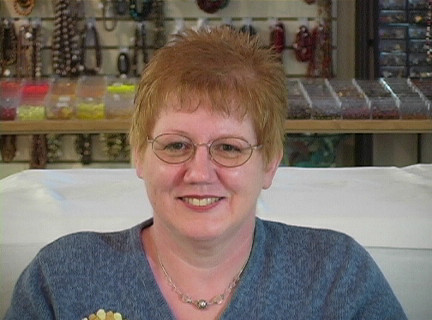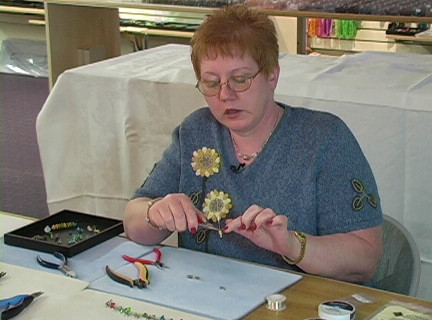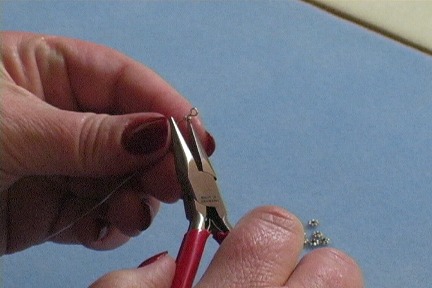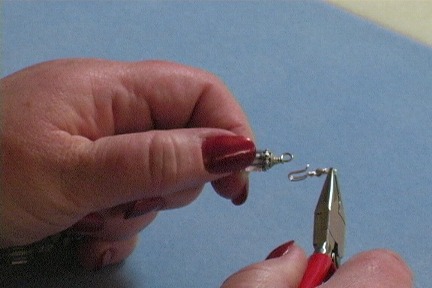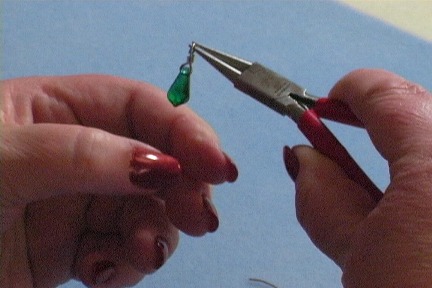 This DVD teaches wire wrapping methods without focusing on a specific design or pattern. The possibilities to design your own jewelry are very broad depending on bead shapes, colors, & sizes (and your imagination). For example, this picture shows a bracelet made using basic wire wrapping.
22-gauge non-tanish silver artistic wire wraps together the lampwork beads, Swarovski crystals, and sterling silver pieces (toggle clasp, headpin with dangling accent , bali beads & spacers). Click image to see the whole bracelet.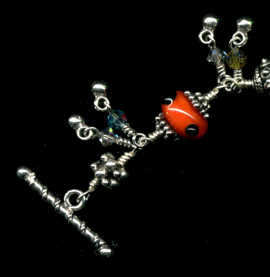 Reviews
A former student had enjoyed Dianna's class, but had forgotten some of the details. She bought the DVD, re-learned from it, and came back to compliment Dianna on how easy it was to learn from the detailed demonstrations. The DVD exceeded her expectations.
A customer stopped Dianna in a favorite bead store and thanked her for making the DVD. She was happy! She really appreciated that the instructions were very clear & easy to understand.
A student told Dianna that the DVD taught her more effectively than anything before.
"This DVD is really good. Send me several more copies ASAP!" - Friendly local retailer
Several people have commented on the DVD's professional quality.

Care - For longest DVD lifespan
Store disk properly when not in player.
Keep disk away from heat.
To unclamp disk from case, press in center.
Technical Information


The Dianna's Wire Basics Class DVD is region free. It uses English language and displays a 4:3 Aspect Ratio. It's manufactured on high quality DVD-R media. Estimated lifespan exceeds 75 years when stored at 72 degrees F (room temperature). DVD is expected to be compatible with 95% of all players, based on write speed, media type, and bit rate.

The case is a plain CD type design with a clear cover and a frosted tray (142mm x 125mm x 5mm). Case & DVD are sealed in a transparent plastic envelope.