Price
and
description
are displayed by pausing mouse over picture.
Click picture to see enlargement; click your browser's "back" button to return.
Length is indicated by the ruled lines (inches).
Click
Buy
button to add to your shopping cart (can easily remove later).
Each button is one of a kind; we ship the ones you choose.
Return to catalog page
Specifications for this page:

Each item on this page is unique (only one).
Foundation glass color is usually black (back side). Cabochon thickness is approximately 1/4".
The pictures show which cabachon surfaces have a textured dichroic surface, which are completely enclosed in smooth glass, and which are mostly smooth with floating dichroic texturing the edges.
Prices on this page range from $13.75 to $6.50
(
increases by size).
Displayed colors may differ from actual colors; background should appear gray.
Glass button-back is attached near center on back. Accepts up to 18 gauge thread.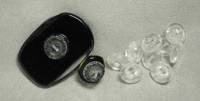 Product (pause mouse over picture)